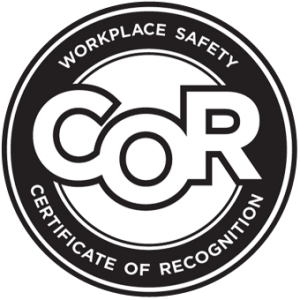 A Certificate of Recognition (COR) is awarded to employers who develop health and safety programs that meet established standards.
A COR shows that the employer's health and safety management system has been evaluated by a certified auditor and meets provincial standards. These standards are established by Occupational Health and Safety (OHS). Having a COR will offer you discounts with the certifying partners (WCB and Worksafe BC) as well as assistance in developing your health and safety program.
Oakridge employs a full time Health and Safety Manager who is certified to perform   COR maintenance and  COR certification audits for companies of up to 20 employees.  Our H&S Manager is also available for consultation, guidance and help in development of a health and safety program, questions about occupational health and safety concerns, and legal requirements of the health and safety program.
For more information, please contact:
Lorna Booker
HR & Health and Safety Manager
780-756-5184
or
Oakridge Main Office
250-782-7790